CSP Focus MENA delegation visit ACWA Power and Shanghai Electric in Dubai
2019.06.26 From: CSPFocus光略咨询
CSP Focus MENA delegation in Shanghai Electric Dubai 950MW
CSP-PV Project Office (Image credit: Shanghai Electric)
A group of over 20 delegates from CSP Focus MENA 2019, paid visits to ACWA Power Dubai Office and Shanghai Electric Dubai 950MW CSP-PV Project Office on June 25 Tuesday.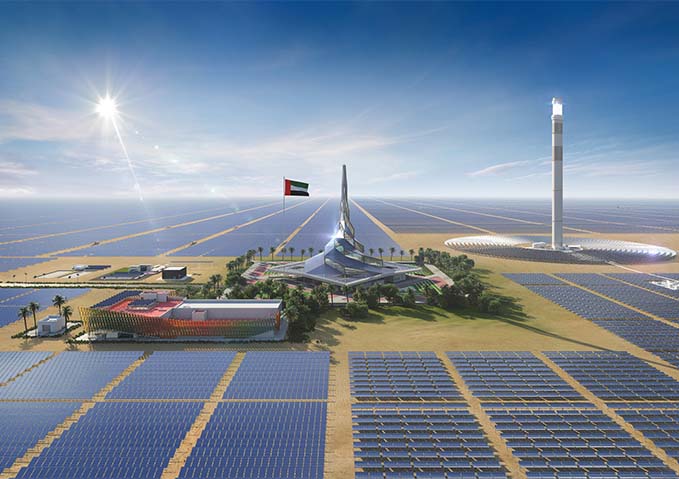 As the biggest CSP-PV solar power project, Dubai 950MW CSP-PV project NOOR Energy 1 is under the 4th phase of Dubai Mohammed bin Rashid Al Maktoum Solar Park.
Saudi Arabia's ACWA Power and China's Shanghai Electric play the leading roles in the project development and construction as the Project Developer and EPC Contractor respectively.
It is a great pleasure for CSP Focus MENA delegation to get opportunities in visiting the two companies and the project site in one day.
Firstly, the delegation arrived in ACWA Power Dubai Office in the morning of June 25th, and received warm welcome from the office staff represented by Mr. Alvaro Gonzalez, Supply Chain Manager, and Driss Berraho, Senior Manager-Business Development of ACWA Power.
Alvaro and Driss made detailed introduction to the visitors on ACWA Power's CSP business and projects, and joined the deep free communication afterwards.
ACWA Power is the biggest power enterprise in Middle East and world leading CSP project developer.
Some of the well-known CSP projects ACWA Power gets involved are Morocco 580MW NOORo CSP-PV Project, and 50MW Bokpoort Parabolic Trough CSP Project, 100MW Redstone Molten Salt Tower CSP Project in South Africa.
After lunch, the delegation headed to Mohammed bin Rashid Al Maktoum Solar Park for Shanghai Electric Dubai 950MW CSP-PV Project Office, and met the project team members led by Project Manager Mr. Hui Zhao.
Mr. Hui Zhao introduced Dubai 950MW CSP-PV Project (Image credit: Shanghai Electric)
CSP Focus MENA delegation in the meeting (Image credit: Shanghai Electric)
As China's biggest energy and industrial equipment manufacturer, Shanghai Electric is becoming one of the most powerful CSP project developer and EPC both in China and Middle East.
---
Upcoming CSP events:
4th Annual CSP Focus MENA 2019(Jun.26-27, Dubai)
3rd CSP Focus Innovation 2019(Oct.24-25, China)
More CSP news and reports please visit www.cspfocus.cn

or CSP Focus social media on LinkedIn, Twitter, Facebook.
2022.04.21-22 Beijing

2021.10.28-29 Beijing

2020.10.22-23 Beijing, China